Christmas... snowflakes... warm cookies... caroling... love... and family. I LOVE Christmastime! Shopping has clearly become a pretty big deal, too. Even Charlie Brown was a little taken back by the "consumerism" of his day.
Indeed, Christmas is about giving... and celebrating the BEST gift we were ever given... in the form of a child... Jesus.
This year, the McBs want to challenge our friends and whoever else may read this... to buy "gifts that give"... Blessing and most of all Hope... to those who are reaching out and loving...
the widows...
the orphans...
the oppressed...
We have decided to buy all our Christmas gifts through ministries, organizations, and families who are reaching outward... which is what Christianity is all about...
it's what Christmas is about...
being in a place that isn't comfortable....
reaching out to people that aren't like you...
VS
.... and giving sacrificially.
That's the Gospel. That's Christmas.
So that's the Challenge... buy Gifts this year that GIVE HOPE and LIFE.... which is the gift we received in Christ.
As I was compiling my list... I came across a blog that had a HUGE list already... I've added the button at the end if you want a more comprehensive list. This list is a condensed version of theirs and the list I had started... Happy shopping for a cause!!
Apparel:
147 Gear Store

Show Hope
Compassion Store
Dolka Pots Etsy Store
F
eeding The Orphans Tshirt
HOPE & Love Is Not A Color Shirts
Light Gives Heat Store
Mocha Club Store
Poppy Dip Clothes
Twinkle & Shine Store
WIPHAN Store
Cookbooks:
Mulder Adoption Cookbook

WIPHAN Cookbook

Jewelry:
147 Gear - Uganda Necklaces

Adopting Ainsley Etsy Store
Chosen Adoption Necklace

JunkPosse Etsy Store
L
ight Gives Heat Suubi Shop
Mama Sheep Etsy Store

Sweet Tea Shoppe Etsy Store

Uganda Necklaces
Noonday Collection

Funky Fish Designs

Bags & Totes:
Haggerty's Adoption Bags

Light Gives Heat Store

Twinkle Stitch Etsy Store

Hair Accessories:
Bring Our Angel Home Fabric Flower Headbands

Dolka Pots Etsy Store
Artwork:
Ahni Art
The Canvas Heart Etsy Store

Christmas:
Embracing The Least Of These Ornaments

Aprons:
Haggerty's Adoption Aprons

Misc:
Coffee: Gobena

Galindo's Tagsies, Burpcloths, and Binky Links

Wine Glass Charms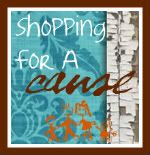 "/>